The Porch Stompers
Hey, folks! I'm sorry to say that the following on this page is mostly out of date. Though a different iteration of personnel may someday come about, the Porch Stompers as noted here ceased to exist as a band mid-year of 2016.
---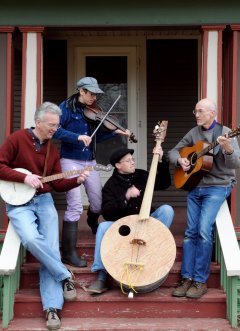 The Porch Stompers have played both the Hey for Forty dances in West Branch and the Central Iowa Barn Dance Association dances in Ames for several years. Though they sing some fine country harmonies, they really have the most fun playing for dances and get a thrill out of working with the caller to get the dancers going strong and having a good time.
Alice McGary has been playing fiddle almost half her life, studying with both Midwest and international fiddlers. She recently completed an apprenticeship with one of Iowa's finest fiddlers, Al Murphy, through the Iowa Arts Council's Traditional Arts Apprenticeship Program. She has played with several other old-timey dance bands in the central Iowa area including the Powesheik Pluckers.
Rick Exner has been playing guitar since the 1960s and plays a wonderful solid dance rhythm as well as lead off of both the fiddle and the banjo. He's been sighted playing with the Onion Creek Clogger band as well as the Skunk River Bluegrass band in years past.
Merle Hall picked up the 5-string banjo within a couple of weeks after going off to college and hasn't been the same since. He, too, played with the Onion Creek Clogger band in their early years and demonstrated both 3-finger and clawhammer styles with Hybrid Grass in the mid-80s. He has played dances and concerts with the Barn Owl Band since its inception in 1991.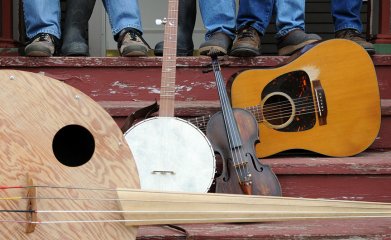 The Porch Stompers have been joined by another great old-time fiddler, Nate Kemperman. Nate's been playing old-time music since he was 17. Having grown up in northeast Iowa, the Scandinavian-American old-time music of that area has been an important source of inspiration and tunes. In 1997-98, he formally apprenticed with Dwight Lamb of Onawa, Iowa, through the Iowa Arts Council Apprenticeship Program. Nate continues learning from Dwight on an informal basis and is greatly influenced by both his fiddle and Danish-American accordion playing. Nate plays fiddle and stand-up bass. A graduate of Grinnell College and bread baker by trade, Nate is presently employed at The Cafe in Ames and lives in Boone. (Hey! Wait a minute! That makes 3/4 of this band Grinnell College graduates. What's up with that?)