Alice's CD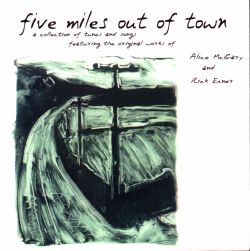 Alice created a fine CD with funding assistance through an Iowa Arts Council grant. Released mid-summer 2006, she invited many folks that she's been playing music with in recent years to be a part of this project, including members of The Barn Owl Band and Slow Poke. A number of tracks are Alice's own songwriting as well as several great songs written by Rick Exner.
"I wanted to make an album of the songs that I loved, that wasn't about a band, or a style, but what I want to say as a person, as a musician. I wanted to capture what I love about music and life in Iowa."
Track List:
band/songwriter

mp3

1.
don't you ever learn
porch stompers/mcgary
2.
little rabbit
porch stompers/trad
3.
the garden's gone to seed
porch stompers/exner
4.
fleur de lis
barn owl band/shindell
5.
the cricket song
mcgary
6.
five miles out of town / dry and dusty
porch stompers/trad
565k
7.
lonesome luddite
slow poke/mcgary
8.
ashes
mcgary
1200k
9.
gee it's pretty up here
porch stompers/exner
1485k
10.
best i can do
slow poke/mcgary
783k
11.
fireflies
mcgary
12.
the vulture song
slow poke/mcgary
797k
13.
apple 2-step
porch stompers/exner
14.
you gotta quit kickin my dog around /
sadie's in the kitchen
porch stompers/trad


868k
15.
the seed song
slow poke/mcgary
16.
bread and butter
slow poke/mcgary
Liner note corrections:
Delbert Spray is from Kahoka, MO, not Illinois.
Also, Bread and Butter is followed by a version of the Ute Pick (or "U-pick", or "ootpick") Waltz in the unusual key of C.
Do contact us and we'll be happy to get a copy to you if you so desire. Alice says they're also available at:

Little Bookroom
328 Main St
Ames, IA 50010
Phone: (515) 233-2126